Wednesday, November 21, 2012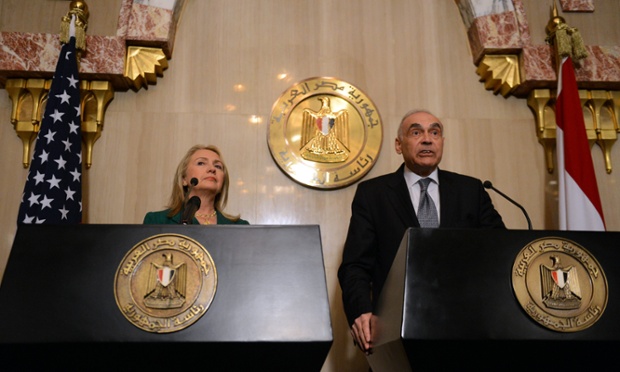 Hillary Clinton - as fabulous as ever -
announcing a ceasefire
in Gaza today.
Tuesday, November 6, 2012
President Obama
responds to a 10-year-old
who wrote the President about her two dads. If you were looking for a reason to vote for the President today, I hope you look no further:
In America, no two families look the same. We celebrate this diversity. And we recognize that wherther you have two dads or one mom what matters above all is the love we show one another. You are very fortunate to have two parents who care deeply for you. They are lucky to have such an exceptional daughter in you.
Very cool:
Zipcar is offering 1/2 price car rentals on Election Day
. And
Uber
is providing free car service to take people to the polls. Just another little nudge of support to be sure to vote or help knock on some last minute doors!
Kristof
makes the case on why women's issues in this election should equally concern men:
When it comes to women's health, men as well as women need to pay attention. Just as civil rights wasn't just a "black issue," women's rights and reproductive health shouldn't be reduced to a "women's issue."
A sad election note: RIP Sen. Claire McCaskill's mother, Betty Anne McCaskil, who's
memorial was held Sunday
. Yet again, reading the
obituary
of Betty Anne reminds me that so many of the amazing women leaders I admire have a she-ro behind them.
Long before her daughter entered Missouri politics, Betty Anne McCaskill had made her own mark in Democratic circles. McCaskill has recalled how her mother sent her children out on Halloween in 1960 with the door-to-door message: "Trick or treat and vote for JFK," referring to the Democratic presidential candidate, John F. Kennedy.

In 1970, she was appointed to the Missouri Commission on the Status of Women, which evaluated the opportunities for women in Missouri government, education and business. The next year, she became the first women elected to the Columbia, Mo., City Council.
Glamour Magazine
features 16 woman who are first time candidates this election. I love seeing so many strong, smart women enter the pipeline of politics.
Monday, November 5, 2012
Tomorrow is a big day for elections, not only for politicians, but also for marriage equality. If successful, it could be a history making day for winning marriage equality
on the ballot
for the first time. Polling looks positive for at a least a few of the efforts, but not enough to make me convinced.
I've been watching with interest (and a healthy dose of anxiety) the campaigns and the polling of the
four states with marriage equality initiatives on the ballot tomorrow
. If you're like me, I needed a quick "cheat sheet" for tomorrow night to make sure I could quickly tell if I wanted a "yes" or "no" vote was the "right" vote. So here it is, with links to the lead pro-marriage advocacy organizations on the measures and the text appearing on the ballot. In short: we want three yeses and a one no.
Maine
Vote
YES
on Question 1
http://www.mainersunited.org
The title of the Legislation is: "An Act to Allow Marriage Licenses for Same Sex Couples and Protect Religious Freedom."
"Do you want to allow the state of Maine to issue marriage licenses to same-sex couples?"
Maine's ballot will read: "Do you want to allow the state of Maine to issue marriage licenses to same-sex couples?"

The citizen's initiative would allow same-sex couples to receive a marriage license in Maine. In addition, it also provides that no clergy person or religious institution is required to perform or to host a marriage against his or her religious beliefs.
On March 1, 2012, Maryland Governor Martin O'Malley signed the freedom to marry bill into law after it passed in the state legislature. Immediately, anti-gay activists began collecting signatures to overturn the law. The law will now face a referendum in the November 2012 election.

Language on the ballot:
Question 6
Referendum Petition

"Civil Marriage Protection Act"

Establishes that Maryland's civil marriage laws allow gay and lesbian couples to obtain a civil marriage license, provided they are not otherwise prohibited from marrying; protects clergy from having to perform any particular marriage ceremony in violation of their religious beliefs; affirms that each religious faith has exclusive control over its own theological doctrine regarding who may marry within that faith; and provides that religious organizations and certain related entities are not required to provide goods, services, or benefits to an individual related to the celebration or promotion of marriage in violation of their religious beliefs.


In February 2012, the legislature passed Engrossed Substitute Senate Bill 6239 concerning marriage for same-sex couples, modified domestic-partnership law, and religious freedom, and voters have filed a sufficient referendum petition on this bill. This bill would allow same-sex couples to marry, preserve domestic partnerships only for seniors, and preserve the right of clergy or religious organizations to refuse to perform, recognize, or accommodate any marriage ceremony.
Should this bill be:

Approved [ ]

Rejected [ ]

The ballot measure is accompanied by the following summary:

This bill allows same-sex couples to marry, applies marriage laws without regard to gender, and specifies that laws using gender-specific terms like husband and wife include same-sex spouses. After 2014, existing domestic partnerships are converted to marriages, except for seniors. It preserves the right of clergy or religious organizations to refuse to perform or recognize any marriage or accommodate wedding ceremonies. The bill does not affect licensing of religious organizations providing adoption, foster-care, or child-placement.


Minnesota
Vote
NO
on the Constitutional Amendment to ban marriage for same-sex couples. The state of Minnesota already defines marriage as between one man and one woman. Tomorrow's vote is to add this as language to their state constitution.
http://mnunited.org/
The question, along with the measure's ballot title, would be presented to voters as follows:
Limiting the status of marriage to opposite sex couples.
"Recognition of Marriage Solely Between One Man and One Woman."
Image left from Freedom to Marry, reflecting the "state of the states" on marriage and domestic partnership laws.